Scrum Training Courses
Certified Scrum Master (CSM)
This course will help you to learn some of the fundamentals of the Scrum framework, such as team roles, activities and artefacts, so that you can be an active member of the team. It is essential that you gain this certificate before moving on to the more advanced Scrum roles and gain some basic knowledge on Scrum basics.
Gaining this certificate is only the start. It's only onwards and upwards from here. To find out more about how you can progress why not look into our scrum professional certification.

Certified Scrum professional (CSP)
Prior requirements:
In order to take this certificate you must have obtained a CSM Scrum certification. You will also need to have spent 2000 hours at least working in a Scrum related environment. Finally, you need to be a Scrum Alliance member.
What the course entails:
It is here that you build on your prior knowledge and strengthen the foundation of your practices, principles and concepts so that you can fulfil your potential as a Scrum team member. Even though becoming agile takes years, you can still accomplish your short term goals by gaining this certificate.
A CSP qualification is a respectable sign in the Agile community and widely recognised therefore employers will look out for this qualification when recruiting ideal candidates.
The exam:
The examination will consist of 150 questions and must be completed within three hours.

Certified Scrum product owner (CSPO)
Starting from the drawing board when building a product can seem to be quite stressful and feel like an elongated process. However this course gives you the chance to put your theory into action so that you can tackle the any product-centred task at hand.
You will discover the ins and outs to the product owner's role and will delve deeper into how to manage stakeholders, ROI, creating effective stories and much more.

Certified Scrum Developer (CSD)
Sharpen your skills today and gain this competitive edge by undertaking a Certified Scrum Developer Course. When you have gained your certificate through Training Dragon, you will have confirmed your skills as an agile software developer as well as enhancing your engineering skills.

Read More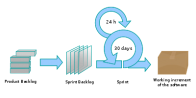 Scrum Course
Learn Scrum in classroom based training course in London with the help of an expert teacher. Contact...
Location: King's Cross, London
More info