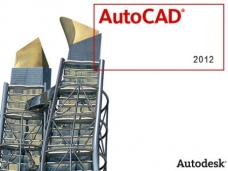 AutoCAD 3D Training Course
Learn AutoCAD 3D and get certified as an Autodesk Certified Associate (ACA) and also get practical projects for your portfolio
Enquire Now
| Date | Course Session | Time | Day(s) | Price | |
| --- | --- | --- | --- | --- | --- |
| 24 Jun 2013 | Mon, Tue, Wed, Thu | 10:00 - 17:00 | 4 | £850.00 | Reserve |
| 08 Jul 2013 | Mon, Thu | 10:00 - 17:00 | 8 | £850.00 | Reserve |
| 27 Jul 2013 | Sat | 10:00 - 17:00 | 4 | £850.00 | Reserve |
AutoCAD 3D course overview
Autodesk AutoCAD is a software application for computer-aided design (CAD) and drafting. The software supports both 2D and 3D formats.
In this course, we will cover 3D aspects of AutoCAD for example creating 3D drawings, rendering 3D, editing 3D solids and hatch patterns.
Few practical AutoCAD 3D based projects at the end of the course will ensure that you can apply AutoCAD on your 3D projects.
This short AutoCAD 3D course is hands-on, instructor-led and classroom based. This training can be taken as a part-time evening course or even on the weekends. A list of all upcoming public AutoCAD 3D training course is given on training dragon website. Each course is restricted to a maximum of ten delegates to ensure an excellent training experience.
Who is AutoCAD 3D training for?
This course is for you if you would like to take full advantage of the best software for all things in 3D animation and modeling. Whether it is animation, modeling, simulation or rendering this software is an industry standard and the most powerful one in its range.
Prerequisites for AutoCAD 3D course
There are no prerequisites to take this course.
What will I get?
Training from professional AutoCAD 3D experts:
Training Dragon consultants have been creating professional AutoCAD 3D models and animation for many years. Those consultants write and teach our AutoCAD 3D training courses, so their experience directly informs course content.
Real-time Practice and Projects:
Our AutoCAD 3D courses are designed to get you started in AutoCAD 3D. We work on industry related projects and tasks in this AutoCAD 3D course.
Course Material:
AutoCAD 3D electronic notes are included in this course.
Course Completion Certificate:
After completing this training your will receive AutoCAD 3D course completion certificate.
Support and Careers Advice:
After the course if you have any problems or questions regarding AutoCAD 3D do not hesitate to contact us. Training Dragon's trainers are expert in their fields and if you need any help with you career choice, please speak to one of our trainers.
AutoCAD 3D Course Contents
3D Modeling and Imaging
Creating 3D Drawings
Getting to Know the 3D Modeling Workspace
Drawing in 3D Using Solids
Extruding a Polyline
Isolating Coordinates with Point Filters
Moving Around Your Model
Getting a Visual Effect
Turning a 3D View into a 2D AutoCAD Drawing
Using Advanced 3D Features
Setting Up AutoCAD for This Chapter
Mastering the User Coordinate System
Understanding the UCS Options
Using Viewports to Aid in 3D Drawing
Using the Array Tools
Creating Complex 3D Surfaces
Creating Spiral Forms
Creating Surface Models
Moving Objects in 3D Space
Rendering 3D Drawings
Testing the Waters
Creating a Quick Study Rendering
Simulating the Sun
Using Materials
Creating Effects Using Materials and Lights
Applying and Adjusting Texture Maps
Understanding the Rendering Options
Adding Cameras for Better View Control
Printing Your Renderings
Simulating Natural Light
The Bottom Line
Editing and Visualizing 3D Solids
Understanding Solid Modeling
Creating Solid Forms
Creating Complex Solids
Editing Solids
Streamlining the 2D Drawing Process
Visualizing Solids
Exploring 3D Mesh and Surface Modeling
Creating a Simple 3D Mesh
Editing Faces and Edges
Creating Mesh Surfaces
Converting Meshes to Solids
Understanding 3D Surfaces
Editing Surfaces
Customizing Toolbars, Menus, Linetypes, and Hatch Patterns
Using Workspaces
Customizing the User Interface
Creating Macros in Tools and Menus
Pausing for User Input
Opening an Expanded Text Box for the Macro Option
Saving, Loading, and Unloading Your Customizations
Understanding the Diesel Macro Language
Creating Custom Linetypes
Creating Hatch Patterns
Managing and Sharing Your Drawings
Sharing Drawings over the Internet
ePublishing Your Drawings
Managing Your Drawings with DesignCenter and the Tool Palettes
Searching Your Drawing Library With Content Explorer
Establishing Office Standards
Converting Multiple Layer Settings
AutoCAD 3D Course Reviews
Daniel
I have got a very good impression of the training, the place is located in central London (very easy to reach), all the facilities you need are there and it is very comfortable to learn there.,My trainer has got more than 10 years of experience, so he knows everything about Autocad. Everything I asked he could solve fast and efficient.,It will be easier to find a better job after complete the training
You can find reviews from previous delegates on
Training Dragon reviews & feedback section here.
​