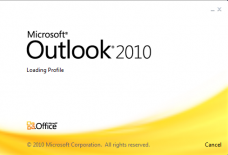 There are no open public schedule dates for Microsoft Outlook 2010 course. We can offer you a private training or arrange a public course for you. Contact us here and we can make arrangements for your course.
Microsoft Outlook 2010 course overview
This Microsoft Outlook 2010 course explains how to use Microsoft Outlook. Delegates will learn Microsoft Outlook by working on many practical exercises with help of an experienced MOS qualified instructor.
This Microsoft Outlook course is hands-on, instructor-led and classroom based. This training can be taken as a part-time evening course or even on the weekends. A list of all upcoming public Microsoft Outlook training course is given on training dragon website. Each course is restricted to a maximum of ten delegates to ensure an excellent training experience.
Certification:
This course prepares you for Microsoft Office Specialist (MOS) certification in Microsoft Office Outlook 2010, Exam 77-884: Excel 2010
Prerequisites for Microsoft Outlook 2010 course
Basic knowledge of Microsoft Windows.
Experience of web browser.
What will I get?
Training from professional Microsoft Office specialists (MOS) qualified instructor:
Training Dragon consultants have been implementing professional Microsoft Outlook solutions for many years. Those consultants write and teach our Microsoft Outlook training courses, so their experience directly informs course content.
Real-time Practice and Projects:
Our Microsoft Outlook courses are designed to get you started in Microsoft Outlook. We work on industry related projects and tasks in this Microsoft Outlook course.
Course Material:
Microsoft Outlook electronic notes are included in this course.
Course Completion Certificate:
After completing this training your will receive Microsoft Outlook course completion certificate.
Support and Careers Advice:
After the course if you have any problems or questions regarding Microsoft Outlook do not hesitate to contact us. Training Dragon's trainers are expert in their fields and if you need any help with you career choice, please speak to one of our trainers.
Microsoft Outlook 2010 Course Contents
Managing the Outlook Environment
Apply and manipulate Outlook program options
Setting General, Mail, Calendar, Tasks, Notes and Journal, Advanced, and Language options
Manipulate item tags
Categorising items, setting flags, setting sensitivity level, marking items as read or unread, and viewing message properties
Arrange the Content Pane
Showing or hiding fields in a list view, changing the reading view, and using the Reminders Window and People Pane
Apply search and filter tools
Using built-in Search folders
Print an Outlook item
Printing attachments, calendars, multiple messages, multiple contact records, tasks, and multiple notes
Creating and Formatting Item Content
Create and send email messages
Specifying a message theme, specifying plain text, rich text, or HTML message content format, showing or hiding the From and Bcc fields, setting a reminder for message recipients, specifying the sending account, specifying the sent item folder, configuring message delivery options, configuring voting and tracking options, and sending a message to a contact group
Create and manage Quick Steps
Performing, creating, editing, deleting, and duplicating Quick Steps, resetting Quick Steps to default settings
Create item content
Inserting graphical elements and inserting a hyperlink
Format item content
Using formatting tools, applying styles, creating styles and themes, using Paste Special, and formatting graphical elements
Attach content to email messages
Attaching an Outlook item and attaching external files
Managing Email Messages
Clean up the mailbox
Viewing mailbox size, saving message attachments, saving a message in an external format, ignoring a conversation, and using clean-up tools
Create and manage rules
Creating, modifying, and deleting rules
Manage junk mail
Allowing a specific message (Not junk), and filtering junk mail with Never Block Sender, Never Block Sender's Domain, Never Block this Group or Mailing List, and Block Sender
Manage automatic message content
Managing signatures, specifying the font for new HTML messages, plain-text messages, specifying options for replies and forwards, and setting a default theme for all HTML messages, stationery, and fonts
Managing Contacts
Create and manipulate contacts
Modifying a default business card, forwarding a contact, and updating a contact in the address book
Create and manipulate contact groups
Creating a contact group, managing contact group membership, showing notes about a contact group, forwarding a contact group, deleting a contact group, and sending a meeting to a contact group
Managing Calendar Objects
Create and manipulate appointments and events
Setting appointment options, printing appointment details, forwarding an appointment, and scheduling a meeting with a message sender
Create and manipulate meeting requests
Setting response options, updating a meeting request, cancelling a meeting or invitation, and proposing a new time for a meeting
Manipulate the Calendar pane
Arranging the calendar view, changing the calendar colour, displaying or hiding calendars, and creating a calendar group
Working with Tasks, Notes, and Journal Entries
Create and manipulate tasks
Creating a task, managing task details, sending a status report, marking a task as complete, moving or copying a task to another folder, assigning a task to another Outlook user, accepting or declining a task assignment, updating an assigned task, and using Current view
Create and manipulate notes
Creating a note, changing the current view, and categorising notes
Create and manipulate Journal entries
Automatically record Outlook items, automatically record files, and editing a Journal entry
​