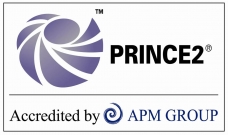 PRINCE2 Training Course
By experienced Prince2 certified project managers
Location: Kings Cross, London
Upcoming Class: 23 Jun 2013
£1,190.00
(If combined
)
Reserve your place
| Date | Course Session | Time | Day(s) | Price | |
| --- | --- | --- | --- | --- | --- |
| 23 Jun 2013 | Sun | 10:00 - 17:00 | 5 | £1400.00 | Reserve |
| 08 Jul 2013 | Mon, Tue, Wed, Thu, Fri | 10:00 - 17:00 | 5 | £1400.00 | Reserve |
| 22 Jul 2013 | Mon, Thu | 18:30 - 21:30 | 10 | £1400.00 | Reserve |
PRINCE2 course overview
The 5-day Prince2 Foundation and Practitioner course combines theory and practice, working around a case study to establish a sound understanding of the PRINCE2 methodology. This course is designed to prepare you for the corresponding Prince2 Foundation and Practitioner certification exam.
This Prince2 course is divided into two sections.
Firstly, a 3-day Prince2 Foundation course providing a solid understanding of the scope, content, terminology and processes of PRINCE2 and resulting in participants taking the Foundation Examination on the final day.
Secondly, a 2-day Practitioner course, allowing delegates the opportunity to gain a wider understand of the application of PRINCE2 in a Project context by discussing and practicing the application of these skills in a facilitated environment and resulting in participants taking the Practitioner examination on the final day.
Delegates will learn
Understand the importance of projects and project management
How Prince2 meets project management requirement
Understand the structure of PRINCE2
Implement the PRINCE2 process model in a variety of environments
Understand the PRINCE2 themes
Create a Project Brief
Create a Project Organisation Structure
Initiate a project
Create Project Initiation Documentation
Prepare the appropriate level of plans using the Product Based Planning technique
Apply progress control mechanisms
Understand the principles of PRINCE2 Quality Management
Undertake Risk analysis and management in a project environment
Apply change control mechanisms
Apply Configuration Management within a PRINCE2 Risk Management approach
Tune PRINCE2:2009 for differing environments
Participate as an informed member within a project management team
This short Prince2 course is hands-on, instructor led and classroom based. This training can be taken as a part-time evening course or even on the weekends.
Who is PRINCE2 training for?
This course is suitable for those who wish to undertake the examinations in PRINCE2 administered by the APMGroup.
Project Managers wishing to learn about project management generally and the PRINCE2 method in particular.
This training is also suitable for anyone looking to pursue a career in project environment.
Prerequisites for PRINCE2 course
Delegates should have a basic awareness of project work in business environment.
Pre-Course Work and Reading: Delegates will receive a copy of the PRINCE2 Manual and a pre-course Workbook by email prior to attending the course. The success on the course will be enhanced by close attention to the pre-reading materials. It is strongly advised that candidates spend 10 hours working through the pre-reading.
PRINCE2 Course Contents
Introduction to PRINCE2
Introduction to Project Management
Overview of PRINCE2
PRINCE2 terminology
Prince2 Principles
Themes
The Process Model
Tailoring PRINCE2 to your project environment.
Business Case theme
Life cycle of the Business Case
The Project Mandate through to its role closing a Project
Writing a Benefits Review Plan
How to write and update the Business Case during the project
Why the Business Case is the key to a successful project
Starting up a Project and Organisation (Pre-project activities)
The organisational structure
Project Management Team
Project Mandate
From Project Mandate to Project Brief
Many forms of Project Mandate
Validating Project Mandate before turning into a project
Initiating a Project
The start of a PRINCE2 project
Various strategies - Risk, Quality, Configuration and Communications Management
How to set up a Project Plan
The Project Initiation Documentation (PID)
Risk Management
How to manage risks
How to create a Risk Management Strategy
How to apply the Risk procedure to any uncertainty
Quality
Importance of quality to PRINCE2
The role quality in product acceptance
Importance of describing quality in measurable terms
Create the Quality Management Strategy
How to describe your products in the correct format
Planning
Importance of planning
Plans theme
How to create a PRINCE2 plan
PRINCE2 Product-Based Planning
How to create appropriate diagrams for Product-Based Planning
Change control and Configuration Management
Why change is inevitable in most projects
How to follow the change process
Manage your products using the Configuration Management Strategy
Importance of using a change control process.
How products need to be signed off
The product description - baseline
Communications Management
Communications Strategy
Manage communications with stakeholders
Subsequent stages
Controlling a Stage
Managing Product Delivery processes
How to review product quality under PRINCE2
Project Manager Activities in managing a Stage Boundary
What the Project Board reviews in an end stage assessment
Closing a Project
Activities of Closing a Project
Relevant documentation for project closure approve
Directing a Project
How Project Board are accountable for the success and continuation of the project
The process of directing a Project
Responsibility for key decisions
Tailoring PRINCE2 in a Project Environment
How PRINCE2 can be tailored to suit any particular situation
Adapted to the different environments
PRINCE2 Foundation and Practitioner Certification Examinations
The Foundation and Practitioner examinations are part of the course. All delegates will sit the PRINCE2 Foundation and Practitioner examination. Sample papers for both examinations are provided to delegates and worked through during the course. The examination scheme is administered by the Association for Project Management Group Ltd.
PRINCE2 Foundation Certification Examination
PRINCE2 Foundation exam will be in the late afternoon of the third day of the course, which is a one-hour, 75 questions, multi-choice paper.
PRINCE2 Practitioner Certification Examinations
The Practitioner exam on day 5, the new format Practitioner examination that is a two and a half hour, nine question, objective testing paper.
​