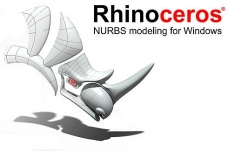 Rhino Training Course
Introduction to advanced level Rhinoceros 3D course in London taught by Rhino experts. Learn Rhino and create practical projects for your portfolio
Location: Kings Cross, London
Upcoming Class: 25 Jun 2013
£722.50
(If combined
)
Reserve your place
| Date | Course Session | Time | Day(s) | Price | |
| --- | --- | --- | --- | --- | --- |
| 25 Jun 2013 | Tue, Fri | 18:30 - 21:30 | 8 | £850.00 | Reserve |
| 13 Jul 2013 | Sat | 10:00 - 17:00 | 4 | £850.00 | Reserve |
| 22 Jul 2013 | Mon, Tue, Wed, Thu | 10:00 - 17:00 | 4 | £850.00 | Reserve |
| 05 Aug 2013 | Mon, Thu | 18:30 - 21:30 | 4 | £850.00 | Reserve |
| 18 Aug 2013 | Sun | 10:00 - 17:00 | 4 | £850.00 | Reserve |
| 06 Sep 2013 | Fri | 18:30 - 21:30 | 8 | £850.00 | Reserve |
Rhino course overview
Rhinoceros is a stand-alone, commercial NURBS-based 3-D modeling tool. The software is commonly used for industrial design, architecture, marine design, jewelry design, automotive design, CAD / CAM, rapid prototyping, reverse engineering as well as the multimedia and graphic design industries. Like many modeling applications, Rhino also features a scripting language, based on the Visual Basic language, and an SDK that allows reading and writing Rhino files directly.
In this course, we will cover Animation, Refining Polygonal Models, Creating Materials, Applying Textures and Rendering using Rhino.
Few practical Rhino 3D based projects at the end of the course will ensure that you can apply Rhino on your 3D and animation projects.
This short Rhino course is hands-on, instructor-led and classroom based. This training can be taken as a part-time evening course or even on the weekends. A list of all upcoming public Rhino training course is given on training dragon website. Each course is restricted to a maximum of ten delegates to ensure an excellent training experience.
Who is Rhino training for?
This course is for you if you would like to take full advantage of the best software for all things in 3D animation and modeling. Whether it is animation, modeling, NURBS curves, surfaces, and solids this software is an industry standard and the most powerful one in its range.
Prerequisites for Rhino course
There are no prerequisites to take this course.
What will I get?
Training from professional Rhino experts:
Training Dragon consultants have been creating professional Rhino models and animation for many years. Those consultants write and teach our Rhino training courses, so their experience directly informs course content.
Real-time Practice and Projects:
Our Rhino courses are designed to get you started in Rhino. We work on industry related projects and tasks in this Rhino course.
Course Material:
Rhino electronic notes are included in this course.
Course Completion Certificate:
After completing this training your will receive Rhino course completion certificate.
Support and Careers Advice:
After the course if you have any problems or questions regarding Rhino do not hesitate to contact us. Training Dragon's trainers are expert in their fields and if you need any help with you career choice, please speak to one of our trainers.
Rhino Course Contents
Introduction
Welcome
Using the exercise files
Recommended hardware


Basic 3D Terminology
Understanding the three types of entities: curves, surfaces, and solids
Comparing Bezier curves, B-splines, and NURBS objects
Comparing isocurve surfaces and mesh surfaces
Setting measurement units and tolerance


Navigation
Introducing the viewport
Using construction planes to anchor model design
Changing the way a model is viewed using shading modes
Navigating the viewport with pan, zoom, rotate, and reset controls
Exploring help options


Introduction to the Interface
Understanding Rhino's command philosophy
Using toolbars and docking buttons to a toolbar
Navigating the geometry menus using a "department store" analogy
Using the command line and status bar to get feedback
Modifying the nudge control and setting other preferences
Using the Properties window
Opening and saving files

Workflow Basics
Creating basic objects: curves, surfaces, and solids
Performing basic transformations
Selecting objects
Organizing a project using layers


Drawing: 2D Geometry
Understanding lines and polylines
Building rectangles and polygons
Creating arcs, circles, and ellipses
Drawing freeform curves


Modeling: 3D Surfaces
Comparing different types of 3D surfaces
Extruding surfaces to create features in a model
Creating surfaces with lofts
Using Revolve and Rail Revolve to create surfaces
Using Sweep Rail to create a 3D claw
Creating complex surface shapes using Network Surface


Modeling: 3D Solids
Introducing solids
Making solids with primitives
Extruding curves to create solids without primitives
Creating unique shapes with the union, difference, and intersection Boolean operators
Troubleshooting solids and Booleans
Editing with the solid edit tools
Creating and transforming holes in solids

Modeling Aids
Understanding Rhino's modeling aids
Working with the Grid Snap modeling aid
Using the Ortho modeling aid
Using the Planar modeling aid
Incorporating the Osnap modeling aid into your workflow
Understanding the Project and Smart Track modeling aids
Setting cursor constraints

Editing and Transforming Objects
Editing corners with Fillet and Chamfer
Trimming and splitting with curve Booleans
Moving and rotating objects with the Drag and Nudge tools
Copying and pasting objects
Understanding how Rhino uses Undo and Redo
Grouping objects
Scaling objects
Duplicating objects using the Mirror command
Making copies and structured sets using arrays

Analysis and Degrees
Using the Analysis toolbar to understand characteristics of a model
Defining degrees of curve and surfaces
Using Rebuild and Change Degree

File Documentation and Collaboration
Measuring and labeling values on a model using dimensioning
Creating screen captures for quick proofs
Creating 2D views of a 3D model
Rendering a project

Prototyping
Preparing a model for prototyping by confirming that all gaps are closed
Using the "shelling" technique to create wall thickness
Exporting to the STL format for 3D printing


​