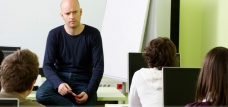 ASP.NET Training Course
Learn ASP.net, C#, MS SQL Server Database & Visual Studio all in one course in London and also develop projects for your portfolio
Location: Kings Cross, London
Upcoming Class: 10 Sep 2013
£637.50
(If combined
)
Reserve your place
| Date | Course Session | Time | Day(s) | Price | |
| --- | --- | --- | --- | --- | --- |
| 07 Jul 2013 | Sun | 10:00 - 17:00 | 4 | £750.00 | Fully Booked |
| 10 Sep 2013 | Tue, Wed, Thu, Fri | 10:00 - 17:00 | 4 | £750.00 | Reserve |
| 21 Oct 2013 | Mon, Tue, Wed, Thu | 10:00 - 17:00 | 4 | £750.00 | Reserve |
| 03 Nov 2013 | Sun | 10:00 - 17:00 | 4 | £750.00 | Reserve |
| 16 Dec 2013 | Mon, Tue, Wed, Thu | 10:00 - 17:00 | 4 | £750.00 | Reserve |
| 05 Jan 2014 | Sun | 10:00 - 17:00 | 4 | £750.00 | Reserve |
ASP.NET course overview
In this course you will learn how to make dynamic web pages using ASP.net. For this purpose, this Asp.net course starts from basics of ASP.net and then covers advanced .net topics. To make the concepts of ASP.net clear, we are also going to develop an online ecommerce website shop project using ASP.net with C# and Microsoft SQL Server. Some of the main topics that delegates will learn in this course are
Understand the .NET Framework and the CLR
Visual Studio 2010
C#
ASP.net Installation, Variables, Loops, Arrays, Operators
ASP.net functions, Conditional Statements
ASP.net Object Oriented Programming (OOP)
ASP.net Class, Objects, Inheritance, libraries
ASP.net Session, Cookies, Form Handling
ASP.net Server Controls, HTML Controls, Validation Controls
Ms SQL Server Database Project using SQL insert, update, delete
And much more ….
Who is ASP.NET training for?
This ASP.net training is designed for ASP.net beginners. The main aim of this ASP.net course is to take you to a level where you can start making your own dynamic websites using ASP.net language.
Prerequisites for ASP.NET course
A good knowledge of HTML and CSS is required. You can get a good knowledge of HTML and CSS by taking our web design course.
Some experience with C# is required, please visit our C# course here.
If you have some knowledge of JavaScript and jQuery then it will make learning this course even easier. Training Dragon's jQuery Course provide an insight into javascript and jQuery.
What will I get?
Training from professional ASP.net web developers:
Training Dragon consultants have been implementing professional ASP.net solutions across a range of web sites for many years. Those consultants write and teach our ASP.net and Ms SQL Server training courses, so their experience directly informs course content.
Real-time Practice and Projects:
Our ASP.net courses are designed to get you started in web development . We work on industry related projects in this ASP.net course. If you have a project or an idea that you wanted to turn into website then present that idea during the course and our trainers will help you to work on your own website.
Course Material:
ASP.net and Ms SQL Server electronic notes are included in this course.
Course Completion Certificate:
After completing this training you will receive a ASP.net web programming course completion certificate.
Support and Careers Advice:
After the course if you have any problems or questions regarding ASP.net do not hesitate to contact us. Training Dragon's trainers are expert in their fields and if you need any help with you career choice, please speak to one of our trainers.
ASP.NET Course Contents
Introduction to ASP.net and .NET framework
What is ASP.net?
What is IIS?
IIS and .net Framework installation
Create your first ASP.net web page
Run ASP.NET Page using web server
HTML and ASP.net
The .NET Framework
What is .NET Framework?
CLR (Common language runtime)
CLS (Common language specification)
FCL (Framework class library)
Intermediate Language
.NET Languages
Namespaces
SQLDataAdapter
SqlCommand
Dataset
SqlConnection
DataTable
DataRow
DataColumn
Controls & use in GUI
Web Server Controls
Label
TextBox
Linkbutton
Radiobutton
Button,
HyperLink
Image
Checkbox
Datagrid
Panel
Listbox
Dropdownlist,
Tables
Calendar
Web forms
Master Pages
Css Class
Validation controls
ASP.net Programming basics
ASP.net Syntax
Hello world
ASP.net variables and data types
ASP.net Operators
Conditional statements using If, else & Switch
ASP.net For and While Loops
Object Oriented Programming C# (C-Sharp)

What is OOP (object oriented Programming)?
Classes
Objects
Properties
Methods
Variable and Variable Scope
Constructors
Inheritance
Events and Event Handlers
ADO.net (ActiveX Data Object)
What is ADO.net?
Access and manipulate data using ADO.NET 3.5
Forward-Only Data
In-Memory Data Model
Data Binding
Data binding
Postback
Binding to textboxes
Binding to labels
Binding to drop down lists
Binding to a Datagrid
Microsoft SQL Server

MS SQL Database
Database concepts & RDBMS (Relational Database Management Systems)
Introduction to SQL (Structured Query Language)
Creating ERD (Entity Relationship Diagram)
What are MS SQL data types?
DDL (Data definition language)
DML (Data manipulation language)
Creating and Editing Database and Tables
Primary key
Foreign key
Inserting Data in tables
Updating data
Deleting data
Selecting data
Projects in ASP.net and MsSQL Server Course
Project 1: Build a Contact us Email Form
Create Form using ASP.net coding and Visual studio
Accept data
Mail function
Project2: Build a Login system
Create login page using ASP.net coding and Visual studio
Connect login page to database
Validate login data
Using ASP.net session
Project3: Build an online shop backend CMS
Database for shopping cart website
Add Product page
Upload product image
View products
Delete product from catalogue
Update products
View customers
View online orders
Project4: Create an E-commerce shopping cart website
E-commerce website design
Create a home page
Build a product search
Display e-commerce catalogue
Create a basket page
Add items to basket page
Update items quantity in basket
Remove items from basket
Customer checkout
Register customer details
Save Customer online order
Understand online transaction
ASP.NET Course Reviews
susmita chatterjee
,It is a good course.,He is good and very helpful.
Andy
Great hands on projects from an industry expert.,Excellent trainer who mentors you through the course and gives you advice from an experienced developer view.,I will have new skills to put on my CV and prepare for my Microsoft certification.
Olawale
quiet detail, very practical and industry application,explicit and explanatory,industry related, hands on
Vicky Hull
The course was extremely helpful and informative. I came as a complete beginner to asp.net, and with limited experience in html/css. After the training, I feel confident about creating a basic e-commerce site, and I have picked up a lot of invaluable techniques and tips. It was great to have hands-on experience where I was given a task and had to work out solutions for myself - this has really helped to leave me feeling confident.,The trainer was a real expert. He had a great deal of real world experience, and was careful to try and give me the benefit of that. He clearly understood asp.net inside out. He was very thorough and the training was well planned. He was also patient and encouraging, which was just what I needed as a beginner!,It will allow me to complete projects in my current position, and has hopefully given me a good foundation on which to begin a career in web development.
Mohammed
This course is excellent for those who want to learn how to create websites with databases. During this course I became more confident in developing databases websites which helped me achieving my targets.,Shesh is an outstanding trainer, he helped us to learn everything about ASP.Net in just 4 days! He has covered all the training objectives and I had the chance to ask additional questions about other things that are not included in the course. Shesh is very professional and experienced trainer and I will defiantly keep in touch with him in the feature.,I am an ICT teacher and I am planning to teach my pupils how to create websites with database. I will try to teach all the stuff that I have learnt during the course.
Bilaal
The course overall was good. I have been given an insight into SQL and ASP.NET using C#. I have understood the fundamentals of ASP.NET and gained a better understanding of the .NET framework and other technologies. What I expected showed an end to end process.,The trainer was good, explained the different definitions and explained with both examples and diagrams. Took the time to explain errors and used good senarios. Showed an end to end process with accurate descriptions. Knowledge of ASP.NET and SQL was great. ,The knowledged gained will allow me to atleast attempt to create my own ASP.NET site connecting to a SQL backend. Also will help me to provide support when incidents are raised for application that I currently support at work. This has given me a fundamental understanding of the technology.
Daniel
A great course for beginners. It was very informative and covered a lot of topics.,Shesh was excellent and very knowledgeable on all ASP.NET topics.,Hopefully I will be able to secure a junior ASP.NET course thanks to what we've learned over the four weeks.
Brendan
Practicial delivery over theory based is always my preference. Days and sesions broken down well enough to remember.,Excellent, clearly very knowledgable on all subjects and areas and comfortable and tollerent when training all skill levels.,It will be used as a step ladder on to next levels.
Stephen Ray
The course was very intense and covered various topics essential to .NET development in a commercial background. Over a 4 day period a vast amount of knowledge was gained on the ASP.NET subject.,The trainer had excellent communication skills and made sure all delegates were comfortable with a specific subject before proceeding with the next one.,Hopefully help me gain employment in the IT sector again after a break of approx 2 years.
Haden
Very Good. Up-to-date equipment and software provided. ,Very Good,Increased job opportunities and salary.
Abbas Ahmed
Really good course. Very practical and beneficial,Shahid is a top trainer. He explains everything in a clear and concise manner and I would have no hesitation in working with him again. ,Absolutely - Yes
Jessica Wearn
Very insightful! This has expanded my knowledge in both ASP.NET and programming as a whole. ,Good experience to draw comparison between different programming languages. Good communication and answers questions well. ,I will use it to understand external development work better, and project manage more efficiently; as well as applying these skills practically.
You can find reviews from previous delegates on
Training Dragon reviews & feedback section here.
​