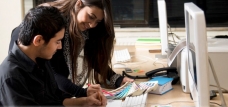 Web Design (HTML & CSS) Training Course
Learn Web design from web designers in London and also create projects for your portfolio. xHTML, CSS, JavaScript, and Dreamweaver all in one course
Location: Kings Cross, London
Upcoming Class: 01 Jul 2013
£467.50
(If combined
)
Reserve your place
| Date | Course Session | Time | Day(s) | Price | |
| --- | --- | --- | --- | --- | --- |
| 20 May 2013 | Mon, Thu | 18:30 - 21:30 | 8 | £550.00 | Fully Booked |
| 01 Jul 2013 | Mon, Tue, Wed, Thu | 10:00 - 17:00 | 4 | £550.00 | Reserve |
| 15 Jul 2013 | Mon, Thu | 18:30 - 21:30 | 8 | £550.00 | Reserve |
| 03 Aug 2013 | Sat | 10:00 - 17:00 | 4 | £550.00 | Reserve |
| 02 Sep 2013 | Mon, Tue, Wed, Thu | 10:00 - 17:00 | 4 | £550.00 | Reserve |
| 16 Sep 2013 | Mon, Thu | 18:30 - 21:30 | 8 | £550.00 | Reserve |
Web Design (HTML & CSS) course overview
This course explains how to create web pages from scratch using different techniques, such as xHTML, CSS, Javascript and use of software like Dreamweaver. After completing our web design courses you would be able to create HTML websites yourself.
The complete course is hands-on based. A practical web design project at the end of the course will ensure that you go through website creation process by planning, creating structure, coding, using different web design software, buying you website a domain name, hosting and uploading website to a live server.
This short HTML and CSS course is hands-on, instructor-led and classroom based. This training can be taken as a part-time evening course or even on the weekends.
Note:
Weekend or Evening courses are recommended for beginners. The intense nature of the weekday course would not be suited to a complete beginner.
Who is Web Design (HTML & CSS) training for?
This course is for you if you are interested in creating or maintaining website for yourself or for others. This course also helps business owners to get more control and insight into their website. This course is designed for complete beginners of web design. No previous coding background is required.
If you are looking for HTML course and CSS training course then this web design course is for you.
Prerequisites for Web Design (HTML & CSS) course
You should be able to use computer and internet. You should be able to create and copy folders and files on your computer. Typing skills are beneficial.
What will I get?
Training from professional HTML and CSS web designers:
Training Dragon consultants have been implementing professional HTML & CSS solutions across a range of web sites for many years. Those consultants write and teach our web design training courses, so their experience directly informs course content.
Real-time Practice and Projects:
Our web design courses are designed to get you started in web design. We work on industry related projects in this web design course. These projects help you create your web design portfolio. If you have a project or an idea that you wanted to turn into website then present that idea during the course and our trainers will help you to work on your own website.
Course Material:
HTML and CSS electronic notes are included in this course.
Course Completion Certificate:
After completing this training you will receive a web design course completion certificate.
Support and Careers Advice:
After the course if you have any problems or questions regarding HTML and CSS, do not hesitate to contact us. Training Dragon's trainers and career consultants are expert in their fields and if you need any help with you career choice, please speak to one of our career consultants.
Web Design (HTML & CSS) Course Contents
HTML
Introduction
What is internet?
Introduction to HTML, CSS, JS and Dreamweaver
Web browsers (Internet Explorer, Firefox, Safari, Opera and Google Chrome)
Role of HTML in a web design courses
HTML (Hyper Text Markup Language)
HTML page structure
HTML tags
HTML attributes and values
View HTML web pages code
HTML vs xHTML
HTML Meta
What are HTML Meta tags
Role of HTML in search engine optimisation
HTML keywords and importance in SEO
HTML meta description
HTML page title
HTML Text
How to use text on HTML web pages
What is HTML paragraph?
Change the font of text
Define text colour and size
Use of Headings H1, H2, H3 etc
What are text comments?
Creating superscripts and subscripts
Striking out text
Make text bold, italic, underlined
HTML List
What is a list?
HTML ordered list
Unordered list
Use list items
Create a navigation with a list
HTML Links
What is HTML hyperlink/link?
How to create a link to another page
Connecting web pages using links
Define target for links
Create HTML anchors
Link to an anchor
Creating a link from an image
HTML Tables & Div
Creating a HTML table
Adding rows and columns to table
Defining padding and spacing
Adding table borders
Merge rows or columns with colspan and rowspan
Create Div
Apply Div Colours
Defining width and height for Div
Float vs Clear
Use background colour for Div
How to use background image for Div
How to use HTML Span
Table vs Div
Working with image in HTML
Adding image
Create image links
The GIF, JPEG and PNG formats
Alternative text, titles and descriptions for images
HTML Multimedia
Creating a marquee
Adding video to web pages
Adding YouTube video to a web page
Adding a Google map to a web page
HTML Form
What is HTML form?
Create a form
Form get and post method
Form action
Creating fieldsets and legends
Creating HTML Form text boxes
Creating password boxes
Using form Labels
Creating text areas
Creating radio buttons
Creating checkboxes
Creating List menus
How to create a file upload
Use of hidden fields
Creating form submit button
Form reset button
CSS
CSS (cascading style sheet)
What is CSS?
Separating content from presentation
Role of CSS in web design courses
Inline vs embedded or external CSS
CSS structure
CSS in HTML
Applying style on one web page
Applying style on complete website
Defining styles for Classes
Style for HTML tags
Defining styles for links
Styling text using CSS
Styling text elements
Specifying font size and colour
Text decoration
Specifying font alignment
Choosing a font family
Specify font size
Setting the Line Height
Make text Italics
Use Bold Formatting
Underlining Text
Specify text colour
Apply text case
Use text's background
Word-spacing and Letter-spacing
Text indentation
Styling links using CSS
Creating hover effects
Keeping track of links
Create website navigation using CSS
Creating web page layout using CSS
How to use Div
Fluid layout
Fixed layout
Elastic layout
Specify the height of an element
Specify the width of an element
Specify the border
Specify padding around an element
Specify the margins around an element
Wrapping text around images
Use float and clear
Use background images for elements
CSS positions: static, relative, absolute, fixed
Use z-index to simulate the third dimension
Publishing/Upload website
Domain Name for your website
CPanel intro
Web Servers Introduction
Uploading and Downloading to and from your website
Protocols FTP, HTTP
HTML web page troubleshooting
Test your website
Check HTML code
View code from browser
Use Firebug to inspect HTML web page elements
Markup and CSS Validation tools
JavaScript
Introduction to JavaScript
What is JavaScript
Firebug console and JavaScript
Variables and Functions
Events and Handlers
Projects in Web Design Course
Project1: Create a personal or business website
Using the skills obtained from our web design courses, we will build a simple layout website using HTML and CSS. We will create a one-column layout brochure/magazine website with multiple pages, a working navigation and a simple gallery. You will learn how to use DIVs and CSS avoiding tables for layouts; you will learn the importance of a clean and well formatted code. This project involves many stages from planning, team work, and designing, testing and launching your website. We will see how to create
Project2: CSS driven gallery
Stretching the boundaries of CSS, we will create an image gallery with CSS only: disjointed rollover, css positioning, background techniques.
Project3: Advanced website
We will create a more complex website using advanced CSS tricks: pseudo classes, shadows, multiple columns, interactive JavaScript gallery.
Web Design (HTML & CSS) Course Reviews
Lisa
Overall the course has been very useful for learning how to build your own website from scratch and understanding the processes involved using html, CSS and some basic Javascript. ,Emil is a great tutor. He is very patient, helpful and encouraging. ,I now have a better understanding of the whole process involved in building a website so that I can apply my knowledge when designing pages. I will also be able to design my own website for my own portfolio.
Dominic Du-Prat
The course was good although the pace was a little too fast at times but with the amount content i do understand.,The trainer was very knowledgeable and helpful with any problems I had.,It will give me a very solid base in which to build my new career as a web designer.
David Cole
Very impressed with the course. Learnt alot about html and css.,Trainer was very helpful and offered guidance when needed. Was very experienced in web design.,Will benifit me alot because alot was learnt.
Robert Damiano
Very well presented. There is alot to learn, and hope we will have some good handouts to practice from home.,very professional. know everything about everything always prepared and patient with everyone.,well i hope it will be help me alot with my next course here on PHP, ASP.NET and most importantly, APP Development
Jonathan Chamberlain
Very detailed. A lot to cover but good to do and it equips you with a good ability to start writing your own web site,Excellent,Not sure it will make much difference but adds to mu skills.
Alan Harris
Very good, overall. Well-taught, covering (generally) a good set of skills. Good size of class (6 people) any more would have been too cramped for the room. I wish there could have been some training on JavaScript - we only covered it on the final afternoon.,Excellent - always on time, really knew his material well, had done a lot of preparation in advance. Very good at explaining topics when we had questions.,Should be really useful for my own website, and also for work.
Jane- Frances Mbanefo
This course has left me very impressed at how fast I grasped the teaching and practical work. This has made me want to learn more and more about web design. Thank you very much :),Excellent trainners. His knowledge came out in what he was teaching us and the way he worked with us step by step untill we understood.,This will add a new dimension to my skills set. I am going to practice with what i have learnt and hopefully will soon be able to design websites for clients
Magalie
great course. good overview of webdesign,good knowledge, great knowledge and communaction skills. He took the time to answer all our question and gave few options for each way to excecute stuff.,I work in ecommerce and have to manage some of my clients' site content so this was most definitely helpful
Martin Gannon
As a starting point to learning web design , I have found it very useful. It has been a lot to take in but has given me a good basis for further learning.,I thought that he went through the stuff as many times as we needed, which sometimes was quite a few to fully understand what we were doing. Had a full understand of the subject, and I believe he will be helpful in the future.,I believe that it will help me lose my fear of designing web pages for myself and others.
Hamid
Great course. Content was intensive, but manageable. ,Trainer (Emiliano) was great. Overall the experience was very good. His communication skills are very good. He was always attentive and responded to all queries asked of him. Professional, friendly and very knowledgeable.,This course has made web-design a little less daunting and therefore will help me improve my career prospects. I would very much like to register for another course with the trainer.
Katie O'Neill
Course helps provide a good overview of how websites are built and how the different elements work together as layers. Also covers well the basics of HTML, CSS and illustrate JS.,Emil is a great teacher, very clear, good constructive advice and nice (a bit like the Michel Roux of web design!).,I hope to use it to understand better any code changes I might need to make at work when updating our website. Also for email. Thank you for a great course! :)
Christopher
Excellent course. Very intense at times but the more you put in the more you get out of the course. Very rewarding. Had to push my myself at times but worth the effort. Learnt so much. After four Saturdays I have built my own very simple web site. Very rewarding.,Very funny and patient. If you don't understand something he will try to explain with easy to follow diagrams.,Very much so. After 25 years writing computer programs for a travel agency I am using this course and the graphic design course next week to investigate new career ideas. This course will act as a stepping stone into a new career.
Martin
Very good coverage, the tutor is very well informed.,The trainer is like wikipedia!!! He knows tons about the subject and explains everything very well.,The knowledge that I gained from this course will help me build my own websites as well as offer my skills to other people.
Andy
Recommended to anybody who wants to start in a career in web design.,The trainer was very clear, accurate and very helpful throughout the course.,The course will help me in my.net development course.
Neil
this course has given me an insight into a field which I knew nothing about, from this I will develop/practice such knowledge to build my skills as a web designer.,Course was good. learned a lot about a subject I previously knew nothing about. although training was intense had the opportunity to question anything i was unsure about.,Good. positive when providing feedback and clearly explained answers to problems/difficulties I had.
fred Letts
Really good, I knew nothing about HTML or CSS before I started this course. Now I feel that I have the basic grounding in theory ans practical experience to go on and learn more for myself.,Hes a legend, great teacher, obviously knows his stuff,At work it will help me dealing with developers as well as allowing me to start my own ventures
Jamie O'Donnell
Good coverage and good explanation of all topics. Theory was well explained.,Very competent trainer with concise answers to every question asked.,I feel I now have the knowledge to build a website properly rather than in a way that I knew wasn't quite right.
Ting-Kai Chang
This is a very informative course with a great support from basic level to semi-advanced level. Also the princle of web design/codeing process from the trainer is really following a proper professional structure, which is extremely benefitial to the course, the beginners and the industry. It suggests this structure is not only educating the skills, but also trying to raise the quality of any work in future digital world.,Really experienced and helpful,This will be a refreshment to my ages-ago-trained-knowledge to make me reach the current standard, very helpful and correct-direction-pointing.
Debbie Wheeler
Very good, very comprehensive. It's a difficult subject but he eased us in well and the offer of support at the end is a comfort!,Very experienced and lovely. Always happy to answer questions and tried to make things as clear as possible. He had a great technique asking different people different questions, putting everybody on the spot, trying to make us all remember what we'd learnt.,It will help me eventually but the topic is so vast that it will take a few months/years for me to fully understand everything. Once this happens then I'm sure it will help my career.
Usman
Overall, the course is designed very well. ,I consider Our trainer (Mr. Emiliano) a very experienced person. He has the ability and knowledge to teach in a proper professional way. I would love to learn more from him, if i can or will get chance.,yes, im pretty much happy with what i have learned in this course and it gave me the knowledge which would be beneficial in my future.
Andrew
well presented and covered all the content,good communication and presented all the information well,Yes absolutely
Dhanvin N
good practical knowledge and practice available.,will say overall good,got confidence and even more knowledge.
Marcin Rymarz
very good, I was nicely supprised by having 2 trainers. Very practical course. You can see trainers are not only teaching, they are working with this. I like things like "I real live we do this....",both of them very good,helped a lot, as it was very practical
Mathew
The course has given me a much better understanding of html and css. This will help me in the future as I play around with more web based projuects.,I thought the trainer was very skilled, he knows his stuff and how to make a website in an effective way. But sometimes I feel as if he went a little too fast.,I will be able to work with the web designers at work now with the knowledge that I have been given. This will be good for me as I can gain experience at work with desiging for web and web design as well.
Monika
It was a good way to approach the web design basics. I really appreciated the fact that we could learn so much in so little time. ,Very professional, experienced and straightforward.,I do not know yet.
Adrian
Good. ,Excellent - without question.,Has given insight & direction.
Julian
An excellent introduction to the world of web design. It gave a good overall knowledge of the building blocks you need to start building your own web projects.,The trainer was excellent, very professional and explained things in a structured and easy to follow way.,It's a good starting point to move into web design, away from the more traditional programming that I do now.
Emma
Lots of information in a short amount of time.,Excellent. Good at explaining and constantly checking everyone understood.,Has taught me hopefully enough to use in the future
ANDERSON
Course was great, lots of information, lots of tips given by lecturer. I feel that I have learnt a great deal and now I need to practise, practise and practise.,Emiliano is great, an expert with lots of patience. He makes sure you understand it and doesn't mind repeating it as many times as needed, extremely patient with all my predictable questions too.,Emiliano has given us lots of tips, books and future prospects. I feel have a long way to go but the course has made me feel very positive and enthusiastic about it.
Crosley
Overall impressions I have learnt a lot and I like the fact that the tutor helps you when you make mistakes with your syntax.,Very good, examples were detailed. Communications was excellent. And I have definately learnt something new. Much better that reading a book.,I am not going to use the skills straight away but the couse will help me to understand how to support existing Website in the Company and help me to write my own.
Steve
Was very good course will definitely look to take further training with Dot Peak.,Trainer was very good at expaining the course work.,Skills learnt will be very useful for project work currently being undertaken
mohamad
the course was really helpful.,Emilano was really helpful and patient. very clear. and he knew what to give us,Emilano gave us enough knowledge about the subject< but we need to go further, and implement what we did to improve.. but im so happy with what we get from this course
Louise
Lots of information and new skills taught for a good price. value for money. It was good to be able to carry out projects as they course went along rather than just taking notes or watching. very kinesthetic which is excellent. ,Excellent communication, knowledge and willingness to help even outside of the course time via email. ,It will be extreemly beneficial as I am hoping to set up my own business, I can now confidently design my website and not have to pay other people to do it for me.
lisa lebret
helpfull, interesting,perfect,I learned about web design and want to learn more now.
mohammed
the course was nice,she was fantastic,to improve my skeils
Yasmin
I really enjoyed the course and am eager to learn more! ,SooJi is amazing, like her way of thinking and stuctured approach.,I hope my clients will enjoy their new websites!
Azim mahmood
Good course. I got what I wanted from it and enjoyed it.,Sooji is awesome, best teacher in the universe. She is very good at breaking things down for us thick people. ,Yes
Jin Wei Foo
The length of the course allows is just nice for a starter without any knowledge of web design. ,The trainer has extensive, in depth knowledge knowledge about the course and is very helpful in solving the problems I encounter. Sometimes can be a bit fast but most of the time can still catch up. Overall very good.,Very helpful for me to start my own website.
Sophie Thorpe
excellent, very informative, fast and detailed. it certainly showed me that it is possible to save a lot of money by creating it myself.,very good. able to provide indepth explanations in a concise manner. Clear and enthusiastic and obviously has a wealth of knowledge on the subject.,it will change my career totally and free me from working for others and create independance for myself.
Terence Gill
very good fundementals, has prepared me to take further php, jquery courses,Great knowledge... very friendly, helpful and imformative!,Has helped me to understand the core elements of web design
Alex Henderson
Fast past but extremely useful,Excellent knowledge of webdesign which showed when giving external examples of where to fnd help on the internet from outside the class. Patient and extremely helpful when explaining. Friendly and very approachable. A credit to the company ,Allow me to build a portofilio of website to allow me to apply for juniro jobs ot get me into the IT sector
Joe Friel
Very informative and helped teach me the basics of HTML and CSS, pretty much did exactly as was promised so that was great. Sometimes it moved a bit slowly, although I think most the class didn't feel the same way. Also, the course mentioned about learning Javascript and I felt that we could have done with having more time in the course to look at this as we only really touched on it.,The trainer was great. She was always very helpful, patient and clearly communicated how everything worked. She was very useful when it came to extra work we could do and was quickly able to solve the problems we encountered when designing out sites.,Has given a great foundation in understanding HTML and CSS which will now allow me to confidently add further skills and knowledge. As I work in radio and radio is increasingly multi-platform, an understanding of this is incredibly useful. Plus it's fun!
Delawer Hussain
I enjoyed the course very much. It has given me the insight and confidence to build my own website. ,The tutor was very helpful with teaching everyone according to their own level and pace of learning. ,I shall apply my knowledge of web design into my free lancing career.
Paula Freitas
Very fast track! It is a good thing to have at least some knowledge of it otherwise it is very easy to get lost. ,She is very good and full of knowledge. There was no question without answer. However, because of the fast pace of the course, she really goes fast and it is very easy to get lost. She has patience though to explain one by one. In this booklet, we would find the technical explanation of why do you use certain tag and not another, what is a tag for etc etc. In a very easy to understand kind of way... ,Probably. I am going to masters and I was using this course as a basic learning and do not feel lost in the major course. I would recommend this course to someone, however, I would let clear that it is important to have some small knowledge in HTML / CSS to have a better good user.
Anna
It is a very intense, hands on course. ,I like Emiliano\'s teaching style. He was always well prepared to the lessons and knew how to get the students involved, made it interactive.\n,It will benefit me greatly. I am going to use the content of this course to gain the skills taht will help me to start a new career as a graphic designer.
Guynamio
good,i have to keep practicing what i learned. it is very good
Chris Burrows
Very informative and gave me what I needed to know. Could have been more challenging.,Seemed very experienced however I'm not sure she wants to be training people all day.,Hopefully make me rich.
Daniel Gillespie
Overall very good, a good introduction to the topics which I will further through study away from class,Overall very good,More documentation,Greater knowledge and technical gargon
Matteo Iori
I have found the course very good. I've learned a loto of new things on the web design field. ,The trainer was very good, I liked very much the ability of teaching.,A lot, in 4 days I learned how do a website.
Jeremy Hill
Very good. Good pace.,Trainer and assistant had the experience and communicated well. It helped to have 2 trainers.,It will help me development an internal website with a colleague for the company we work for. Give me opportunities.
Vicki Clarke
Fast pace and everything covered in detail with great support if you get stuck!,Both trainer and assistant obviously know the subject very well and helped resolve issues if students made any errors. Trainer made sure everyone was up to pace. Those that were ahead were set further tasks so they weren't bored whilst waiting for everyone to catch up. Communication was brilliant - if you didn't understand how something worked, we were provided analagies until everyone understood. Made us think and problem-solve for ourselves to test and ensure we had understood, but was on hand if we got stuck. Overall - brilliant!,I understand more about coding (more importantly "clean" coding!) and am now able to find things in code a lot better. This should hopefully mean I can help our webmaster with her job and pushes me one step further to working as a web designer rather than just graphic designer.
Sameer
I have learned a insite about the Dreamweaver which will be helpful for me while I learn more about it online.,Emiliano is experienced instructor who is willing to help whihc any queries. I had received a reply email even 10 PM whihc I was struggling.,Well I want to become a IPhone App Developer and when I contacted Dotpeak I was told to start from basic like Dreamwever so that I will have some knowledge of hand coding. In nutshell this course has given me a enough insight of coding which I have start getting confident.
Nina Drakou
Very professional and didactic. VERY VERY HELPFULL!!,I would rate both Sooji and Emiliano very skilfull and helpful. Communocation skills exellent.,I will design my own web sites ,both the professional and the charity one.It is of great value to understand the concept of web designing and SEO even if you are not a professional designer, because you realise how the others are looking at you AND YOU CAN PROMOTE YOURSELF in real life.
Trystan Williams
The course manages to balance the right amount of information with the right pace. The high amount of information is given to you in an understandable and practical format, at a speed that allows you to take it all in but with out giving you the option of being bored.,The trainer took the alien concept of Web design and layed it out so I could finaly see html and css not as a jumble of symbols but a practical puzzle that I can now fit together. The trainer took what is a different language and made it understandable.,I will now be able to effectivley carry out projects that I do for myself at home and for my university on to the internet. This new found skill will give me a new platform in which I can display my work and reach new audiences.
Jolyon Hedges
Good introduction to HTML & CSS,Knew HTML & CSS very was was able to communicate ideas and principles clearly,Should not need to bring your own paper & pens - should be provided. Could be improved by using SMART interactive white boards would enable tutor to save and send information written on the screen.
james
good,very good,its going to make me rich!!! ha
Kirt Redden
A brilliant course for beginners, it has really helped me understand HTML and CSS and i feel confident with taking on personal projects on my own.,Emiliano was an excellent tutor! Really easy to get on with and very helpful. Every lesson was fun and I left feeling that I had learnt a large amount.,I feel that this course has been a valuable start to my web design career and I feel confident that I will be able to design my own website. This is a brilliant start and now I understand HTML + CSS I can develop my skills further by studying further at home.
Md Rezaul Alam
I have really enjoyed the course. Though it was to first for me to pick the code up. ,Trainer was very good in communicating and skills.,This course will defenitely help me upto the ultimate goal of my career.
You can find reviews from previous delegates on
Training Dragon reviews & feedback section here.
​