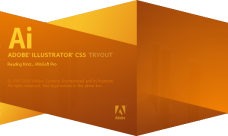 Adobe Illustrator Training Course
Introduction to advanced level Adobe Illustrator course in London taught by graphic designers. Learn Illustrator, prepare for Adobe ACA exam and create practical projects for your portfolio
Location: Kings Cross, London
Upcoming Class: 02 Jun 2013
£722.50
(If combined
)
Reserve your place
| Date | Course Session | Time | Day(s) | Price | |
| --- | --- | --- | --- | --- | --- |
| 02 Jun 2013 | Sun | 10:00 - 17:00 | 4 | £850.00 | Reserve |
| 15 Jul 2013 | Mon, Tue, Wed, Thu | 10:00 - 17:00 | 4 | £850.00 | Reserve |
| 06 Oct 2013 | Sat | 10:00 - 17:00 | 4 | £850.00 | Reserve |
| 18 Nov 2013 | Mon, Tue, Wed, Thu | 10:00 - 17:00 | 4 | £850.00 | Reserve |
| 20 Jan 2014 | Mon, Tue, Wed, Thu | 10:00 - 17:00 | 4 | £850.00 | Reserve |
| 17 Mar 2014 | Mon, Tue, Wed, Thu | 10:00 - 17:00 | 4 | £850.00 | Reserve |
Adobe Illustrator course overview
Adobe Illustrator is an application widely used for its brilliance in creating professional vector graphics, Adobe Illustrator is very popular amongst Graphic Designers for that very reason. This course will guide you through from the very basics to the advanced skills you will need to be a professional.
This Illustrator course is hands-on, instructor-led and classroom based. This training can be taken as a part-time evening course or even on the weekends. A list of all upcoming public Illustrator training course is given on training dragon website. Each course is restricted to a maximum of ten delegates to ensure an excellent training experience.
Who is Adobe Illustrator training for?
This Adobe Illustrator is for everyone who would like to increase their field in graphics to vector graphics which enables you to do more than ever.
Prerequisites for Adobe Illustrator course
There are no prerequisites for this course.
What will I get?
Training from professional Illustrator designers:
Training Dragon consultants have been using Illustrator for creating professional vector graphics for many years. Those consultants write and teach our Illustrator training courses, so their experience directly informs course content.
Real-time Practice and Projects:
Our Illustrator courses are designed to get you started in Adobe Illustrator. We work on industry related projects and tasks in this Illustrator course.
Course Material:
Illustrator electronic notes are included in this course.
Course Completion Certificate:
After completing this training your will receive Illustrator course completion certificate.
Support and Careers Advice:
After the course if you have any problems or questions regarding Illustrator do not hesitate to contact us. Training Dragon's trainers are expert in their fields and if you need any help with you career choice, please speak to one of our trainers.
Adobe Illustrator Course Contents
Part 1. Introduction
Introduction to Illustrator
Vector vs. Bitmap
Configuring the Workspace
Creating a New Document
Artboard Arrangements
Simple Shortcuts to Work Efficiently
Drawing with Illustrator
Shape Tools
Line Tool
Pen Tool and its Shortcuts
Adding / Removing / Editing points with Pen Tool
Bézier Curves
Transforming Tools
Basic Blends
What are Symbols?
Spraying Symbols
Colours in Illustrator
Colour Palette and Swatches
Stroke and Fill
Modifying Stoke Attributes
Gradients and Patterns
Altering Objects
Using Selection, Direct Selection, Magic Wand and Lasso Tool
Smart Guides to the Rescue
Using Grids and Guideline
Aligning Objects
Grouping and Duplicating
Twirl, Bloat and other Warp Tools
Understanding Layers
Hiding and Locking Layers
Using Isolation Mode
Compound Paths
Clipping Masks
Importing Images
Converting Bitmap into Vector
Text with Illustrator
Adding Point and Area Type
Spell Checking
Finding and Replacing Text
Creating Type Outlines
Warping Text
Saving your Artwork
File types
Defining a Crop Area
Saving for Web and Devices
Saving in Vector Format
Saving as PDF
Simulating Multiple Pages
Exporting to Photoshop
Release to Layers
Exporting for Adobe Flash
Part 2. Advanced Techniques
More Advanced Drawing with Illustrator
Using Compound Paths
Expand Appearance
Attributes
Outline Strokes
Using Styles
Shape Builder
The Width Tool
Using Perspective Grids
Creating Custom Brushes
Creating Calligraphy, Scatter, Pattern, Art and Bristle Brushes
Altering Artworks
Envelope Distort
More about Clipping Masks
Using Live Paint
Transparency and Opacity Masks
Drop Shadows and Outer Glows
Gradient Mesh for Realistic Colouring
3d Shading and Highlights to 2D Graphics
Filters vs. Live Effects
Advanced Blending Techniques
Generating a Colour Group
Using Colour Guides
Advanced Text Features
Creating Character and Paragraph Styles
Kerning
Baseline Shift
Horizontal and Vertical Scaling
Adding Text to Vector Paths
Gradients with Text
Using 3D to Extrude Text
Improving your Workflow
Using Live Colour
Using Smart Objects
Creating Templates
Adobe Certified Exam
Preparation
What to Expect
Pass or Fail
Projects in Adobe Illustrator
Project 1: Create a logo with Illustrator

Project 2: Draw a portrait of yourself with Illustrator
Project3: Create a t-Shirt design using Adobe Illustrator
Project 4: Create a business card design
Project5: Create a dvd, cd and album cover with Illustrator
Project 6: Create a leaflet design
Adobe Illustrator Course Reviews
Meera
I found the course very useful and the trainer helpful and encouraging. The small class size meant that the training was keyed into our own personal projects more effectively,Very skilled and a great teacher. Easy to engage with,Great for the CV and very useful skills to have
You can find reviews from previous delegates on
Training Dragon reviews & feedback section here.
​